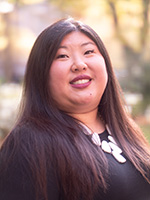 E-mail: kscharp@uw.edu
Office: CMU 223

Kristina M. Scharp is an associate professor in the Department of Communication at the University of Washington. She received her graduate degrees from the University of Iowa where she specialized in interpersonal, family, and health communication.
Dr. Scharp primarily researches difficult family transitions and the ways families cope with the major disruptions to their lives. The research she conducts on distressing family transitions manifests in a variety of contexts such as parent-child estrangement, (foster) adoption, undergraduate student parents, and disability diagnoses such as hearing loss. She is also expressly interested in the ways family members resist being marginalized through related processes such as identity (re)construction, social support-seeking, information/uncertainty management, and meaning-making. Her research on communication in family contexts has garnered attention from outlets such as the New York Times, NPR, PBS, U.S News & World Report, the Washington Post, and the Wall Street Journal. She also writes her own blog about interpersonal and family relationships for Psychology Today (https://www.psychologytoday.com/us/blog/interpersonal-and-family-relationships)
Dr. Scharp is a Director of the Family Communication and Relationships Lab that is housed both at the University of Washington and Michigan State University.
Selected publications since 2016
Scharp, K. M., **Cooper, R., *Worwood, J., & Dorrance Hall, E. (in press). "There's always going to be uncertainty.": Exploring undergraduate student parents' sources of uncertainty and related management practices. Communication Research. doi:10.1177/0093650220903872
Scharp, K. M., Seiter, J., & *Chandler, M. (in press). "My mom always tells that story to friends and relatives": Exploring the phenomenon of other presentation. Journal of Family Communication
Scharp, K. M., **Kubler, K., & Wang, T. R. (in press). Individual and community practices for constructing communicative resilience: Exploring the communicative processes of coping with parental alienation. Journal of Applied Communication Research
Scharp, K. M., & Barker, B. A. (in press). "I have to social norm this": Making meaning of hearing loss from the perspective of adults who use hearing aids. Health Communication. doi:10.1080/10410236.2020.1712523
Scharp, K. M. (in press). Taking sides and feeling caught: Communicative complications for immediate family members of estranged parent-child dyads. Journal of Social and Personal Relationships. doi:10.1177/0265407519886360
Scharp, K. M. (2019). "You're not welcome here:" A grounded theory of family distancing. Communication Research, 46, 427-455. doi:10.1177/0093650217715542
Scharp, K. M., & Thomas, L. J. (2019). Disrupting the humanities and social science binary: Framing communication studies as a transformative discipline. Review of Communication, 19, 147-163. doi:10.1080/15358593.2019.1595702 (Special Issue entitled In the Defense of the Humanities: What Does Communication Studies Give?)
Scharp, K. M., & Dorrance Hall, E. (2019). Examining the relationship between undergraduate student parent social support-seeking factors, stress, and somatic symptoms: A two model comparison of direct and indirect effects. Health Communication, 34, 54-64. doi:10.1080/10410236.2017.1384427
Scharp, K. M., & Thomas, L. J. (2018). Making meaning of the parent-child relationship: A dialogic analysis of parent-initiated estrangement narratives. Journal of Family Communication, 18, 302-316. doi:10.1080/15267431.2018.1484747
Scharp, K. M., & McLaren, R. M. (2018). Uncertainty issues and management in adult children's stories of their estrangement with their parents. Journal of Social and Personal Relationships, 35, 811-830. doi:10.1177/0265407517699097
Scharp, K. M., Barker, B. A., *Rucker, S. N., & **Jones, H. (2018). Exploring the identities of hearing parents who chose cochlear implantation for their children with hearing loss. Journal of Deaf Studies and Deaf Education, 23, 131-139. doi:10.1093/deafed/enx060
Scharp, K. M., & Thomas, L. J. (2017). "What would a loving mom do today?": Exploring the meaning of motherhood in stories of pre-natal and post-partum depression. Journal of Family Communication, 17, 401-414. doi:10.1080/15267431.2017.1355803
Scharp, K. M., & *Beck, A. L. (2017). "Losing my religion": Identity (re)constructions in Mormon exit narratives. Narrative Inquiry, 27, 132-148. doi:10.1075/ni.27.1.07sch
Scharp, K. M., & Dorrance Hall, E. (2017). Family marginalization, alienation, and estrangement: A review of and call for research that questions the nonvoluntary status of family relationships. Annals of the International Communication Association, 41, 28-45 doi:10.1080/23808985.2017.1285680.
Scharp, K. M. (2016). Parent-child estrangement: Conditions for disclosure and perceived social network member reactions. Family Relations, 65, 688-700. doi:10.1111/fare.12219
Scharp, K. M., Paxman, C. G., & Thomas, L. J. (2016). "I want to go home": Homesickness experiences and social support-seeking practices. Environment and Behavior, 48, 1175-1197. doi:10.1177/0013916515590475
Scharp, K. M., & Thomas, L. J. (2016). Family "bonds": Making meaning of parent-child relationships in estrangement narratives. Journal of Family Communication, 16, 32-50. doi:10.1080/15267431.2015.1111215