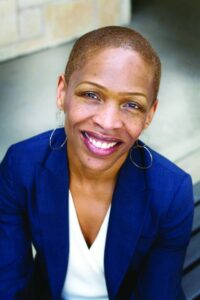 April 25, 2023 – Walker Ames Room, Kane Hall – 5:30-7:30pm
Light refreshments will be provided – RSVP Here
Dr. Dawna I. Ballard, Associate Professor of Organizational Communication and Technology at the University of Texas at Austin, will deliver the 2023 Scheidel Lecture in April. As an expert in chronemics—the study of time as it is bound to human communication—Ballard researches what drives our pace of life and its impact on the communication practices and long-term vitality of organizations, communities, and individuals.
In this talk, Dr. Ballard will illuminate how we create time through communication design, a process of intervening in human activity to enable certain forms of communication and avoid others. Using the case of the Children's Advocacy Centers of Texas, an interagency model that leverages multidisciplinary teams to prevent, treat, and prosecute child abuse, Dr. Ballard identifies two underlying communication design logics, the fast and the slow, which reflect contrasting beliefs about how communication works to support urgent, time-sensitive work demands. Fast communication design logics are linear, short-term in orientation, and treat time in interaction as transactional. Slow communication design logics are nonlinear, long-term in orientation, and treat time in interaction as transcendent. While speed is central to some individual pursuits, Dr. Ballard illustrates how effective teams, communities, and organizations can routinely communicate slowly to go fast.
Dr. Ballard is completing her latest book, Time by Design (under contract at MIT Press), about how effective organizations routinely communicate slow to go fast. Her other work includes the edited volume, Work Pressures, as well as numerous peer-reviewed articles in outlets such as Communication Monographs, Communication Research, Small Group Research, Human Communication Research, Management Communication Quarterly, Communication Yearbook, Journal of Applied Communication Research, and KronoScope: Journal for the Study of Time. Her research and commentary are regularly featured in mainstream news outlets, such as The New York Times, The Atlantic, Forbes, Inc., and NBC News.
Since 1998, this annual public lecture honors Professor Thomas Scheidel's lifetime of scholarship, teaching, and academic leadership by bringing distinguished scholars to the UW Department of Communication to meet and engage with faculty and students who are pursuing advanced studies in communication.