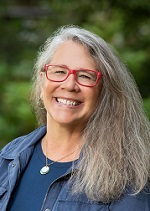 M.A., American Studies / English, University of Utah, 1990
B.A., Communication / Journalism, University of Utah, 1986
Office: CMU 340F
Twitter: @aoutah
E-mail: aotanez@u.washington.edu
Andrea Otáñez is an educator and journalist who has written, edited and developed online and print packages in a variety of beats, including environment, science, politics, medicine, communities, religion and consumer affairs. In 2017, she was named Journalism Educator of the Year by the Society for Professional Journalist, Western Washington Pro Chapter.
From 2005 to 2013, she brought the print-journalism program at Everett Community College into the digital-first world, and was recognized for her teaching, winning the George Shuh Award for Outstanding Faculty in 2007 and Faculty of the Year, Associated Students Award in 2013.
Otáñez has been a bi-weekly columnist for The Seattle Times op-ed page, and a monthly columnist for The Salt Lake Tribune. She has also developed curriculum in Chicano Studies and media literacy, including an Introduction to Mass Media class through the Washington state Open Course Library. At the University of Washington, she has developed curriculum on Latinx representation in media, as well as on the ethical imperatives of journalism in a diverse society.
Before becoming tenured faculty at Everett Community College, Otáñez was an assistant metro editor at The Seattle Times. Among her awards was first place in the Pacific Northwest Newspaper Association's 2005 Debby Lowman Award for Distinguished Reporting of Consumer Affairs.
Otáñez also worked as an acquisitions editor for the University of New Mexico Press, acquiring manuscripts in Chicano memoir, fiction, culture and literary criticism, including "The Circuit" by Francisco Jimenez.
She began her journalism career at The Salt Lake Tribune while an undergraduate at the University of Utah.