---
The Department of Communication affiliated students, staff, and faculty have the unique resource of checking out gear from our Equipment Checkout Program such as cameras, audio recorders, lighting, and more.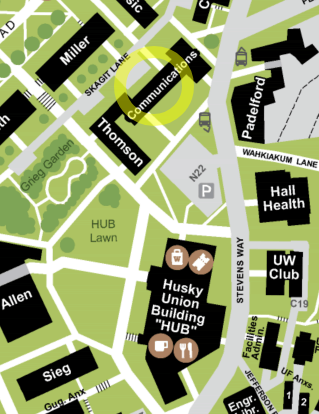 Location
Our Equipment Checkout location is on the third floor of the Communication (CMU) building just north of the Husky Union Building "HUB". (For an example map, see figure 1.1) Checkout is located in the Tech Hallway in room 318-E
Please note: Equipment Checkout is closed during UW holidays so you will have to plan around such days.
We would like to continue providing this free service to students, staff, and faculty. To help us do so, please take responsibility for the individual items and kits you reserve for your timeslot. This includes taking care of items in your possession to ensure their safe return at the end of your reservation. This also means that you pick up and return the gear at the allotted time you schedule to pick up and return.
---
Our Equipment
Students, faculty, and staff have access to the following:
Smartphone Accessories
Camcorders
Tripods (big and small)
Monopods
Video and Photo Lighting
Audio cables and adapters
Lavalier mics, shotgun mics, and other assorted mics
Digital recorders
Headphones
DSLR Cameras and lenses
GoPros
More…
Have a suggestion for new gear? Tell us about it here:
https://forms.gle/1oeeaNiLh7af7qhv9
---
Equipment Checkout Process
Reserve Equipment
Reserve equipment using the Student AV Equipment Checkout system. By clicking the 'I Agree to These Terms' button, you are entering into a legally binding contract and are responsible for returning the equipment on time and in good working order.
Please make your reservations at least 4 hours in advance to give our student workers an opportunity to process your equipment in a timely manner.
Pick-up Equipment
On the day you are scheduled to pick up your equipment, go to the Equipment Checkout Office (CMU 318-E) where you will sign it out.
If you notice any problems with the equipment, please tell the IT staff.
Provide your Husky ID or other photo identification during checkout.
DISCLAIMER: Because we cannot guarantee that an item will be returned to us on time and in perfect working order, we cannot guarantee that the items you've reserved will be available on the day they're scheduled for pick up.
Return Equipment
On the day you are scheduled to return your equipment, return it to the CMU's Equipment Checkout Office.
Our Student workers will check that the equipment and all accessories are present and that everything is in working order and in good condition.
---
FAQ Below
Have additional questions about our Equipment Checkout Program? Send us an email at comeq@uw.edu