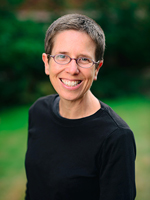 MPA, University of Washington, 2002

Office: CMU 251B
E-mail: avcrofts@uw.edu
Blog: http://avcrofts.com/pepperforthebeast/index.php/blog/
Anita Verna Crofts, Senior Lecturer, serves as the Associate Director of Academic Affairs for the Communication Leadership graduate program. Anita is interested in the ways digital media and food build, sustain, and grow communities — in concert and on their own. Her courses include: story creation and social engagement, leadership and organizational design in the digital age, and the interplay of culture, identity, and communication. With a Clinical Instructor appointment at the UW Department of Global Health, Anita collaborates with partner institutions in Sudan and Namibia on trainings that address leadership, management, and policy development, with her contributions targeted at the concept of storytelling as a leadership and evidence tool. Anita serves as the Department of Communication's Flight Instructor, a position she created to encourage "ideas and people to take flight" by building a dynamic learning environment through curricular innovations; space and design considerations; and spearheading leadership development at the undergraduate and graduate student level. Anita is a German Marshall Memorial Fellow and Thomas J. Watson Research Fellow.
Selected publications
Crofts, A.V. "Silver Lining: Building a Shared Sudanese Identity Through Food." Gastronomica, (Winter 2010) 10(1): 110-116.
"Vision for Change: Partnering with Public Health Leaders Globally." Building Leadership Bridges, ILA Press, November 2008, (with Nancy Campbell, Nicola de Paul, Aaron Katz, and Elisabeth Mitchell).
Crofts, A.V. "Surviving Genocide: Stories from the Northwest." Colors Northwest Magazine (April 2005).