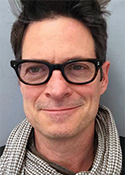 Artist in Residence

E-mail: tomasic@uw.edu

John Tomasic has been various combinations of editor, writer, re-writer, ghost-writer, grant-writer, copywriter, reporter, blogger and social-media manager for politics, culture, business and academic publications. He has authored blockbuster articles on supreme court cases and UN reports on Balkan war crimes. He has also penned newspaper gossip columns and copy for a golf-wear catalog.
John was senior writer and capitol bureau chief at the Colorado Statesman and project designer and president at nonprofit digital news outlet Colorado Independent, managing editor at the Huffington Post's citizen-journalism elections reporting project "Off the Bus," managing editor and lead instructor at the University of Southern California's digital-journalism training program "Pop and Politics," deputy editor at contributing writer at San Francisco city magazine 7×7, and section editor, copy editor and contributing writer at award-winning "new economy" magazine Business 2.0.
Tomasic has taught writing, reporting, history and literature to undergraduate and graduate students at institutions that include the University of Paris Dauphine, University of California Berkeley and the University of Southern California.