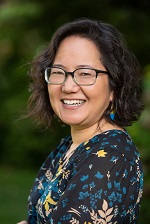 Ph.D., English Language and Literature, University of Michigan
B.A., English, UC Berkeley
Office: CMU 225
E-Mail: nishime@uw.edu
LeiLani Nishime is a Professor of Communication. Her research areas are multiracial and interracial studies, the intersection of race and gender, Asian American media representations, and Asian American subcultural production. Her book Undercover Asian: Multiracial Asian Americans in Visual Culture (University of Illinois Press) looks at the visual representation of multiracial people in mass media. She has co-edited two books on Asian American popular culture and an edited collection on race and ecology. Her most recent articles analyze race in science fiction and Asian American graphic novels.
Dr. Nishime currently on the board of the Seattle Globalist and she is also one of the organizing members of the Seattle Asian American Film Festival.
Dr. Nishime received her Ph.D. in English Language and Literature from the University of Michigan and her B.A. in English from UC Berkeley. She comes to the UW from Sonoma State University where she was an Associate Professor in American Multicultural Studies.
Selected publications