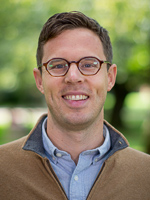 Ph.D. in Media, Culture and Communication, New York University, 2013
Office: CMU 233
E-Mail: mjpowers@u.washington.edu
Matthew Powers is Associate Professor in the Department of Communication, and Co-Director of the Department's Center for Journalism, Media and Democracy. His research explores transformations in contemporary journalism through a cross-national comparative lens, and his writings have been published in Journal of Communication, New Media & Society, and the International Journal of Press/Politics, among others.
His first book, NGOs as Newsmakers: The Changing Landscape of International News, was published in 2018 by Columbia University Press. It is the first book in the "Reuters Institute Global Journalism" series. Based on interviews, observations, and content analysis, it examines the growing role of non-governmental organizations in shaping — and in some cases directly producing — international news coverage of humanitarian and human rights issues. In 2019, it received the Outstanding Book Award from the Journalism Studies Division of the International Communication Association.
With Adrienne Russell, he is the editor of Rethinking Media Research for Changing Societies (2020, Cambridge University Press). Bringing together leading scholars of media and public life, the book asks how media researchers can make sense of the massive changes confronting politics and media. Each author identifies a 'most pressing' question for scholars working at the intersection of journalism, politics, advocacy, and technology and suggests research approaches to make sense of it.
Powers has been engaged for several years in comparative analysis of journalism in France and the United States. The project–conducted jointly with Sandra Vera-Zambrano–asks how journalists in these distinct contexts react to the similar economic and technological transformations that confront them. It has resulted in several publications, and several more–including a book, tentatively titled What Journalists Are For–are forthcoming.
At the University of Washington, Powers teaches undergraduate courses in ethics and comparative media. At the graduate level, he teaches courses and advises students in qualitative and comparative research methods, and the sociology of journalism and cultural production.
Selected publications