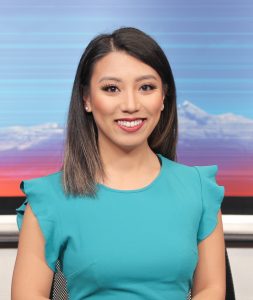 Rhea Panela (B.A., 2017) is a proud first-generation Husky, and a passionate storyteller. Currently, she works as a multimedia journalist for KTVZ NewsChannel 21, the NBC/CNN/FOX/CW affiliate in Bend, Oregon.
A former staff writer for The Daily at the UW, Panela has continued to explore her love of storytelling since graduation. Whether producing and anchoring a news segment, giving live shots, or carrying 50 pounds of camera equipment, Panela thrives in the unpredictable and challenging environment of broadcast news. She advises aspiring journalists to "be prepared to be unprepared;" you never know where your day will take you.
Read more about Panela's professional journey in the interview below:
What kinds of challenges and triumphs have you encountered thus far on your professional journey?
"I'm the first to attend college in my family, so there was definitely a lot of pressure to do things 'right.' My family encouraged me to pursue a career in the STEM fields, but after I started working for The Daily as a staff writer during my sophomore year at the UW, I decided to pursue my passion for storytelling. I come from a very traditional family, so revealing my desire to major in journalism (instead of nursing or healthcare) was nerve-wracking. I balanced my academic work with internships, my sorority, and my personal life, and I believe all my hard work paid off in the end. One of my proudest achievements is being chosen as one of the inaugural Husky 100, and representing the Department of Communication."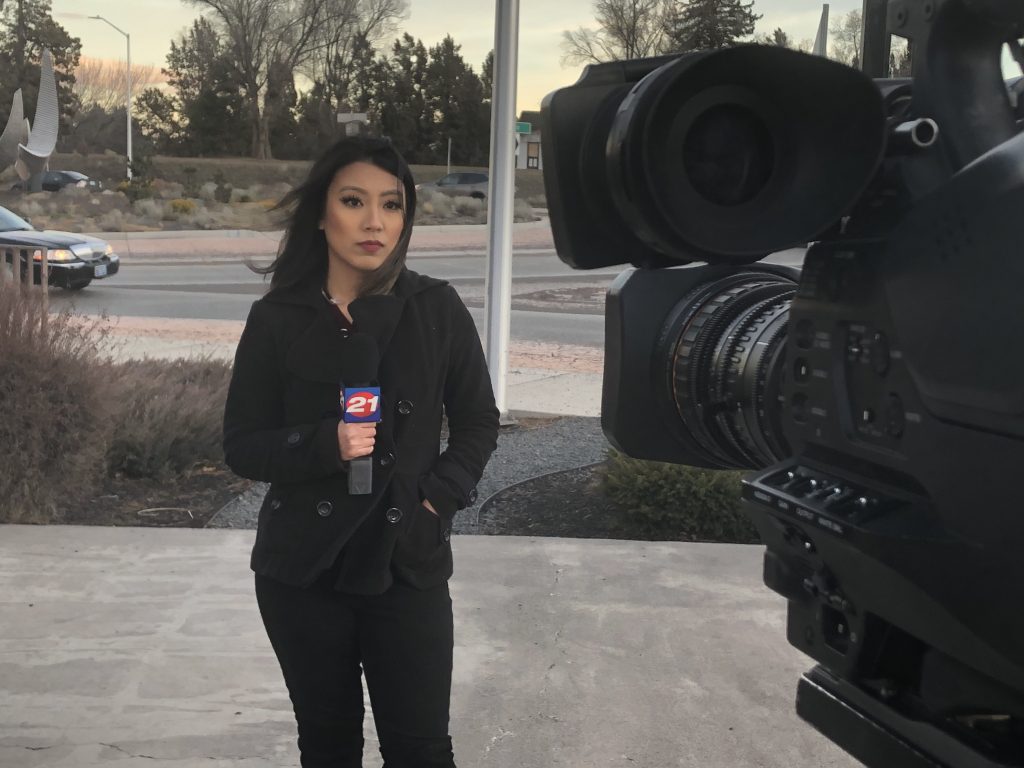 How did your time at the Department of Communication help you in your journey?
"I believe a big turning point for me was becoming a staff writer for The Daily. Although the Department did not have a formal broadcast news program, my instructors and advisors presented many opportunities for me to develop my skills outside of the classroom. These included becoming a student columnist for The Seattle Times and working at KIRO 7 News as a morning news and digital media intern. Through these opportunities, I was able to network and gain mentors in media outlets whom I still keep in touch with today and give me valuable feedback on my professional work."
What do you like about broadcast journalism and being a TV anchor?
"It always takes me out of my comfort zone! Every day at work is a completely different experience. Some days, I'm out in the field carrying about 50 pounds of camera gear, and sometimes, I'm filling in on the anchor desk. Occasionally, I'm filling in as a news producer. I'm a one-woman band, so I film, edit, and write my own story assignments. There are days when I have a schedule of interviews all set up for the day. Other times, my story assignment doesn't work out as planned, and I'm constantly looking at the clock to make sure I have something in time for the 4 p.m. newscast.
After I'm done reporting a story in-studio for the 4 p.m. newscast, I have to go back to my desk and edit the next chapter of that story in time for the 5 p.m. newscast, and so on. Depending on the story, I'm asked to do a live shot out in the field at the scene of the story, without a teleprompter. Doing live shots still makes me nervous at times, but I love the thrill. What I love the most about my job is being able to connect with the audience, and know they have some knowledge to take away from what I'm reporting."
What advice do you have for Communication/Journalism undergraduates about to start their professional careers?
"If you're a student trying to get your foot in the broadcast news industry, I'd emphasize networking as much as possible; meet new people, ask reporters/anchors out for a brief conversation over coffee, and always stay curious about what's going on in the world and in your community. Also, be prepared to be unprepared. As a TV reporter/anchor, you're expected to stay on your toes and face breaking news at any given time. It's not the ideal career path for most; when you're starting out, you can expect to miss out on a lot of family events and holidays. It can be difficult, but if you have a fire and passion for journalism, this career rewards you with personal growth. Also, hone your writing skills as much as you can! You'll be dealing with fast turnarounds and hard deadlines for stories, often within less than five hours after you get your assignment. [You must] Know how to work smart and work hard at the same time."