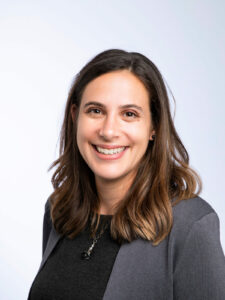 When: November 18, 2021, 2:30 to 4 p.m.
Where: CMU 126
Nikki Usher, PhD, will discuss her new book, News for the Rich, White, and Blue: How Place and Power Distort American Journalism. The book considers how larger structural inequalities and political tensions in American life are instantiated through and by the news media. Dr. Usher argues that while journalism can power democratic life, in many cases, journalism works to perpetuate existing power structures and the status quo. As the economics of the news media increasingly come to rely on those who will pay for news, the US spins into a distorted version of elite democracy: the journalists inside the newsrooms most likely to survive and those who have access to high quality news and information grow more distant culturally, politically, economically, and even geographically from historically-marginalized Americans—namely people of color and rural Americans. Preexisting inequalities in access to news and information stand to worsen.
Dr. Usher will discuss how newsrooms remain white places of power, a problem compounded by the political economy of the news media, where white, wealthy audiences are more important than ever to a news organization's financial survival. She will detail how Google, Facebook, and the digital advertising ecosystem have wreaked havoc on the economic model for quality journalism, leaving local news to suffer – with the winners and losers of news economics closely resembling the political and economic regionalism in the US as a whole. Dr. Usher also argues that the reality that the vast majority of Republicans no longer trust the mainstream news media should not be viewed as an existential threat, but an opportunity to rethink how news organizations might directly embrace social justice. Drawing on a variety of empirical data from qualitative fieldwork to geospatial analysis, Dr. Usher provides a clear-eyed view of the reality that saving the news requires reimagining journalism itself.
Nikki Usher, PhD, is an associate professor at the University of Illinois Urbana-Champaign in the College of Media with affiliate appointments in communication and political science. She is also a senior fellow at the Open Markets Institute's Center for Journalism and Liberty, where she focuses on media independence, platforms, and antitrust. Dr. Usher is the author of two books in addition to News for the Rich, White, and Blue: Making News at the New York Times (2014) and Interactive Journalism: Hackers, Data, and Code (2016) and the co-editor of Journalism Research that Matters (2021).