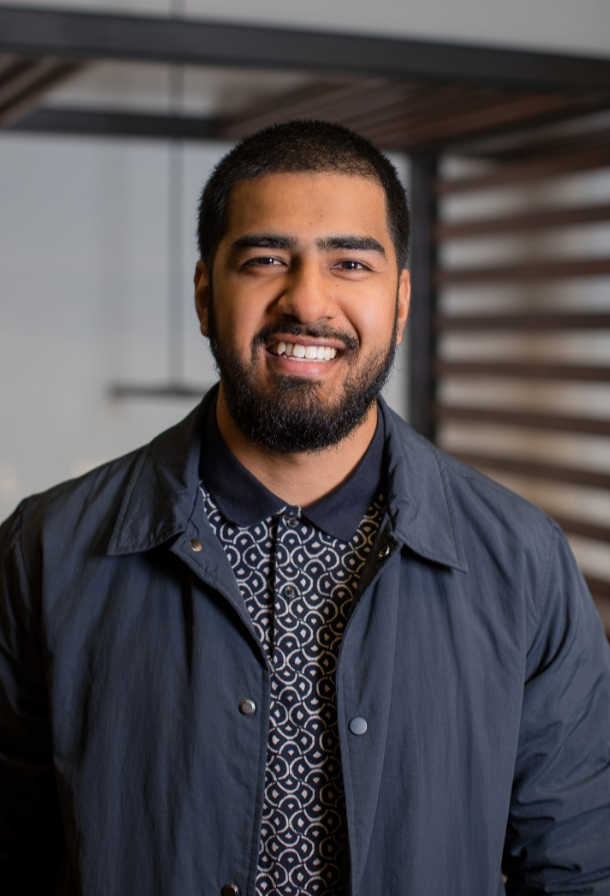 Ryan Quigtar is putting his communication leadership skills to work, enriching the lives of those in his hometown of Renton, Washington. He is a 2018 graduate of the Master of Communication in Community and Networks, part of the department's Communication Leadership program. This one-of-a-kind degree teaches students "the collaborative skills necessary to manage change, recognize and navigate interpersonal dynamics, and design effective strategies for engaging diverse publics". Since the beginning of the COVID-19 pandemic, Ryan has been harnessing the skills he learned in the program to accomplish something impactful for the community in which he was raised.
Ryan currently serves as the Executive Director of the Renton Innovation Zone Partnership (RIZP). A year ago, Ryan and the RIZP launched a mobile resource center, the Skyway Resource Center, to provide resources to the Bryn Mawr-Skyway community during the COVID-19 pandemic. Uplifting a community with limited resources during a pandemic is difficult work, but Ryan saw success as the Resource Center grew through word-of-mouth. "We knew we were successful and were building trust, because we were tracking how people found out about the SRC and most of the folks attending found out from a family, friend or neighbor. It was one of our greatest measures of success, because it's truly been a grassroots effort and it's keeping its authenticity," he said.
Soon, the operation is getting a major upgrade. In partnership with King County Housing Authority and U.S. Bank, Ryan and RIZP are bringing a HUD EnVision Center to West Hill's Skyway Community. In 2023, the Center will open in the old U.S. Bank building west of downtown Renton. This multi-service resource center will bring economic empowerment, educational advancement, health and wellness, and character leadership services to the Skyway community in a permanent setting. "This community has never had a consistent space to access different resources. We've always had quarterly or yearly events, but never as consistent as twice a month. Once the building is renovated and opened, it will be daily!" Ryan said.
Ryan's accomplishments in the Skyway community were supported by his experience in the Communication Leadership Program. "Comm Lead has always helped me think through community design, applying UX and human centered design principles. It's given me space to apply my learning right away because I've always been in a situation where the class I was in directly applied to what was happening in my workplace. I never had to seek out or wait for an opportunity to apply my learning." An important value Ryan gained from the Comm Lead Program is the democratization of information. "When a community has a breakthrough, oftentimes the momentum can stall when all the information is stuck with one person" he says. "While I am leading this project, there are so many others who are part of our core planning team who are learning just as I am, how to build a building!" It's clear that Ryan developed valuable collaborative skills from his experience in Comm Lead.
It's always gratifying to witness graduates of the Communication Leadership Program realize their post-graduation goals. Anita Verna Crofts, Artist in Residence in the Comm Lead Program, takes pride in Ryan's work. "While it's always deeply rewarding in our Comm Lead core classes to see students present such inventive prototypes or conceptual communication strategy pieces, it's thrilling when these projects are pursued beyond the ten weeks of the quarter, and that's exactly what Ryan has helped lead in his neighborhood of Skyway/Bryn Mawr," she says. "His commitment to community-driven economic development is longstanding, and this exciting partnership embodies the collaborative qualities that draw people like Ryan to the Master of Communication in Communities & Networks degree. Ryan is inquisitive, quick to champion others for the greater good, and brings a conviction to how he engages with the world. I can't wait to visit the Skyway Resource Center with Ryan as my guide!"
Graduates like Ryan Quigtar exemplify the core values of UW Communication. His commitment to uplifting the Bryn Mawr-Skyway exemplifies Communication Leadership and we can't wait to see what he accomplishes next!