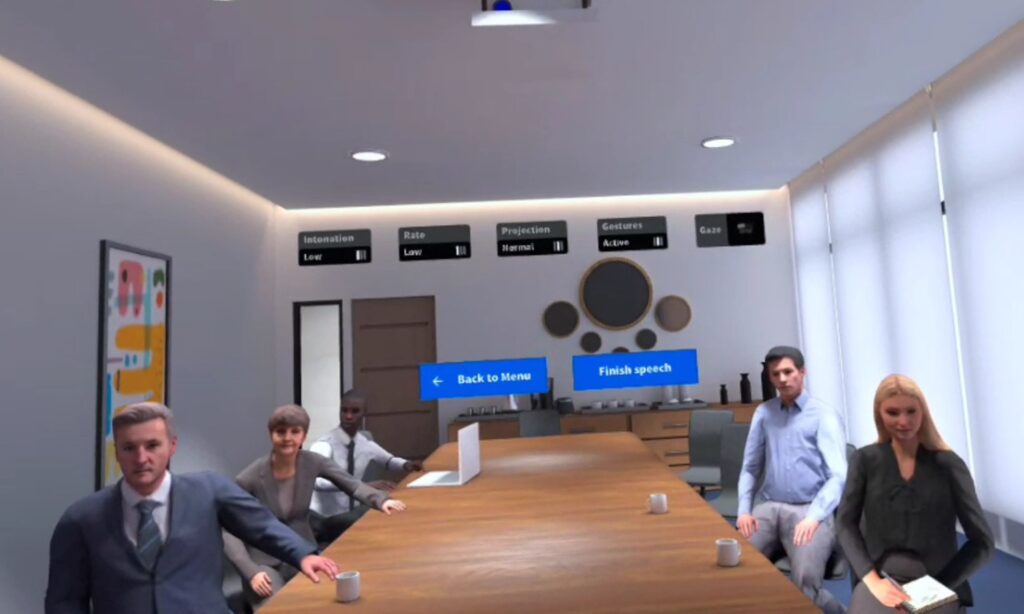 UW Communication professor Matt McGarrity developed a new virtual reality public speaking experience for his popular Introduction to Public Speaking course on Coursera, the Massive Open Online Course (MOOC) platform. The result of over a year of intense development with Coursera, Meta, and educational VR developer, Sweet Rush, this new feature is designed to help speakers improve their skills and overcome anxiety in front of an audience. Custom options include choices of two virtual venues, a lecture hall and a conference room, in which speakers can practice their presentations. Dr. McGarrity's MOOCs on Coursera were chosen for VR development because they remain incredibly popular, serving over one million students in 160+ countries over ten years.
McGarrity says he was fully on board when Coursera expressed interest in adding a VR option to Introduction to Public Speaking."[I thought] 'Why not? I'll give it a whirl,'" McGarrity said.
McGarrity's Introduction to Public Speaking joins Duke University's Introduction to Human Physiology and Peking University's Chinese for Beginners as the only three VR courses currently offered on Coursera.
Developing the VR experience required McGarrity to delve deeply into research on virtual reality, prosody (patterns of stress and intonation in speech), and computational linguistics. Partnering with education VR developer, Sweet Rush, McGarrity provided pedagogical materials, identified and refined performance metrics, and designed the format and activities for the virtual course.
In addition to selecting between a virtual lecture hall or conference room, the new VR feature allows students to decide whether to face a "calm" audience or the more challenging "restless" audience, with distracted virtual spectators who yawn, talk, or look at their phones, in order to mimic real-life scenarios.
Another helpful feature of the app is the analytics it provides users. Not only does it show the pace, or rate of delivery, but it also tracks pitch variation, intonation, projection, gestures, and gaze over the course of a presentation.
Although McGarrity recognizes the power of virtual reality as a tool, he noted that compared to speaking to a live audience, "it's not a substitute and it never will be."
"The most valuable thing was being able to think innovatively about a new technology and being able to task that to the ancient demands of teaching speech," McGarrity said.
As a leader in the area of communication pedagogy, McGarrity sees the Coursera project as an exciting opportunity to contribute to how VR might possibly enhance Public Speaking education and offer guidance for how instructors might make use of it in Communication and Public Speaking classrooms.