---
The Career Exploration program presents students with the opportunity to go out into the world and meet with leading communication professionals in TV production, journalism, public relations, the nonprofit sector, and more.

This is a unique chance for students to expand their networks in Los Angeles, New York City, and even right here in Seattle. Every year, the Department of Communication takes a select group of students to L.A., NYC, and to locations in Seattle, to tour facilities and meet with a dynamic array of industry professionals.
Career Explorations are funded in part by The Christopher Rauch Meyer Endowed Fund. This endowment is named in memory and honor of Christopher Meyer, who received a Bachelor of Arts degree in 1985 from the University of Washington with majors in Communication and Psychology. Christopher also had a strong interest in film and theater; he took drama courses to hone his skills in acting and lived and worked in Hollywood on two different occasions to pursue his passion for work in film. This endowment honors Christopher's legacy of seizing opportunities, taking chances, and pursuing dreams. Its creation has provided a range of students with opportunities to travel to, and meet with, professional communication leaders outside of the Pacific Northwest.

Do you have Career Kickstart questions? Email COM Advising at comadv@uw.edu or stop by the Advising Office (CMU 118).
The application to our Autumn Quarter 2023 NYC and Seattle Career Exploration Trips is now available! Please note that there is one application for both trips and students will be able to indicate whether they would like to be considered for one or both when applying. More information on the trip can be found on the Google Form. Applications are due June 16th at 11:59 PM with interviews held mid-July via Zoom.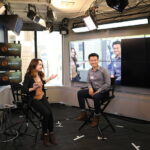 Visit our UW COM Flickr page to view and download more photos from previous trips!