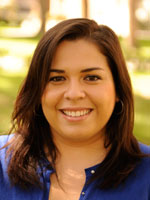 Ph.D., Communication, Annenberg School for Communication and Journalism, University of Southern California, 2013

E-mail: cmgonzal@uw.edu
Office: CMU 141
Carmen Gonzalez is an assistant professor in UW's Department of Communication. She received her Ph.D. and M.A. in Communication, and B.A. in Print Journalism and Chicano Studies from the University of Southern California.
Dr. Gonzalez has conducted community-based and participatory research over the last 10 years, investigating the communication practices of immigrant and minority populations in the contexts of health promotion and civic engagement. In recent work, she examined how communication ecologies—networks of communication resources—impact health care among Latinas and how community assets can be leveraged to address health disparities. In prior research, she has investigated how digital neighborhood storytelling promotes political participation.
During the last year, Dr. Gonzalez was a postdoctoral research associate at Rutgers University working on a digital equity study funded by the Bill & Melinda Gates Foundation. Through qualitative interviews with parents and children in three low-income communities, the study examines how Latino families make decisions about adopting digital technologies and how these tools facilitate learning in home and school settings. At the UW, she will continue to explore how technology shapes the lives of individuals and families, and develop strategies to promote technology as a tool for empowerment. Through engaged scholarship and teaching, she hopes to help bridge university and community efforts to promote sustainable social change.
Selected publications
Gonzalez, C., & Katz, V. (2016). Transnational communication as a driver of technology adoption in immigrant families. International Journal of Communication, 10, 2683–2703.
Villanueva, G., Broad, G., Gonzalez. C., Ball-Rokeach, S. J., & Murphy, S. (2016). Communication asset mapping: An ecological field application toward building healthy communities. International Journal of Communication, 10, 2704-2724.
Katz, V.S. & Gonzalez, C. (2016). Toward meaningful connectivity: Using multilevel communication research to reframe digital inequality. Journal of Communication, 66(2), 236-249.
Katz, V.S., & Gonzalez, C. (2016). Community variations in low-income Latino families' technology adoption and integration. American Behavioral Scientist, 60(1), 59-80.