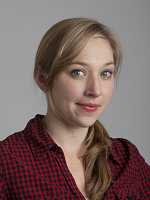 E-Mail: erikajschultz@gmail.com
As a visual storyteller with more than 15 years of experience, Erika Schultz focuses on building trust and relationships and producing documentary images, videos and immersive online journalism projects.
Supported by the International Women's Media Foundation and Pulitzer Foundation, she collaborated on a series of immersive stories exploring asylum, deportation and women's human rights in Mexico for The Seattle Times. The visual storytelling project Disappearing Daughters, which interweaves poetry, reporting, photography and documentary film, earned a national News & Documentary Emmy in 2021 and an Online Journalism Award for feature reporting in 2020.
Erika's photo and video projects has been recognized for Best of Photojouranlism 2021 and Pictures of the Year International. Her work has also been recognized by the Casey Medals for Meritorious Journalism, National Edward R. Murrow Awards, The Alexia Foundation, Society of Professional Journalists and the ASNE Community Service Photojournalism awards. She also was part of The Seattle Times' 2010 Pulitzer Prize winning team for Breaking News Reporting.