Paul Meyer knew what it was to "Be Boundless."
Meyer, who passed unexpectedly in April 2020, graduated from the University of Washington with an undergraduate degree in Political Science and a master's degree in Public Administration. An energetic and generous supporter of the University of Washington, his love for the institution is evident in his legacy of philanthropy and student mentorship.
During his lifetime, Meyer climbed all the major peaks in Washington (summitting Mt. Rainier twice), but it was through his support of the Communication department that he helped dozens of undergraduates also expand their own horizons.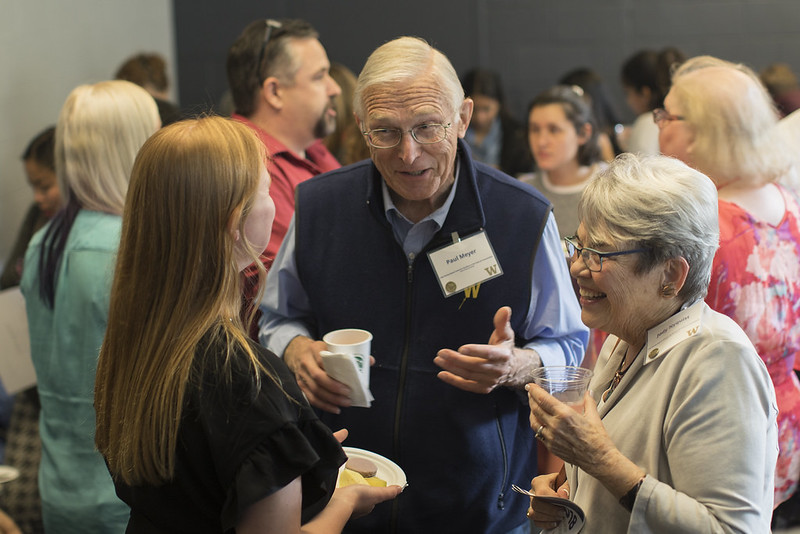 "Paul Meyer was an incredibly accomplished and proud alumnus of the University of Washington, and a dear friend of the department of Communication. I had the privilege of meeting Paul in my role as Chair of Communication. He was kind, intelligent, and generous," recalled Christine Harold. "Paul's gifts ensure that our students will continue to have amazing opportunities, exploring career paths with professionals in the communications and entertainment industries."
Established by Meyer in 2015, The Christopher Rauch Meyer Endowed Fund provides Communication undergraduates with transformative learning opportunities through the department's Career Exploration program. Named in memory of Christopher Meyer — Paul's son who received a Bachelor of Arts degree in 1985 from the University of Washington with majors in Communication and Psychology — the endowment honors Christopher's legacy of seizing opportunities, taking chances, and pursuing dreams. The endowment funds the annual travel of a select group of students to Los Angeles, where they are immersed in a community of alumni who serve as mentors for their career pursuits.
In the five years that the program has run, student explorers have found inspiration in the guidance given to them by the many esteemed UW alumni living and working in Los Angeles; they frequently return to campus more confident in their academic and career goals.
Communication alumna Kia Vang (B.A., 2017) reflected that when she traveled with the group, it seemed like there were alumni tailored for every student. For example, her classmate (and budding filmmaker) Yobel Mengistu was particularly thrilled to meet Pete Chiarelli ('96), Hollywood screenwriter of The Proposal and Crazy Rich Asians.
"After returning from the trip, I felt like I could actually pursue a career in L.A. I could go tomorrow and feel confident," Mengistu said.
Communication students who participated in later trips also shared Vang and Mengistu's enthusiasm.
"This trip was the best experience I had at the UW, and exceeded my expectations," one Los Angeles-bound Communication student reported, "I truly feel that I grew so much from this, both academically and emotionally."
Christy Choi (B.A., 2013), who served as one of the hosts to the 2017 Los Angeles group, said that it is always "fun and equally inspiring for her to be in the midst of so many ambitious, talented students." She added that being a part of the Career Exploration trips is meaningful to her because she has fond memories of traveling with the Department shortly before graduating with her Communication degree. "It is really interesting for me to come back years after and notice the changes in what I share and talk about with the students."
A champion of the L.A. trip since its founding, Pete Chiarelli reflected on how when he thinks back "to my 20-year-old self, who had absolutely no idea how any of it worked […] I would have killed to go on a trip like that [Career Exploration]; just to know what I was getting myself into, and to make the move [to Los Angeles] a little less terrifying."
Former Communication Alumni Relations Manager Victoria Sprang also remarked on seeing the connections between students and alumni grow over time. "The experience ends up being mutually beneficial: students have the ability to establish networks, and alumni improve their mentoring skills."
A true friend of the Communication department, and the University of Washington at large, Meyer recognized that legacy can be a powerful gift. Through his funding of the Career Exploration L.A. trips, his is set to echo across generations of Communication Huskies.
"The Meyer family legacy is an important part of our department's story," Dr. Harold noted. "We're honored by Paul's deep generosity and vision."
***
To read more about Paul Meyer's extraordinary life, please read his full Seattle Times Obituary.
Please note that a Memorial Service will be held at Epiphany Parish in Seattle at a future date when it is possible to gather together to celebrate the life of Paul Rauch Meyer.

Donations can be made in Paul Meyer's name to the Christopher Rauch Meyer Endowed Fund at the University of Washington (https://tinyurl.com/MeyerFund or by calling 1-800-332-0565).