A Note from the Chair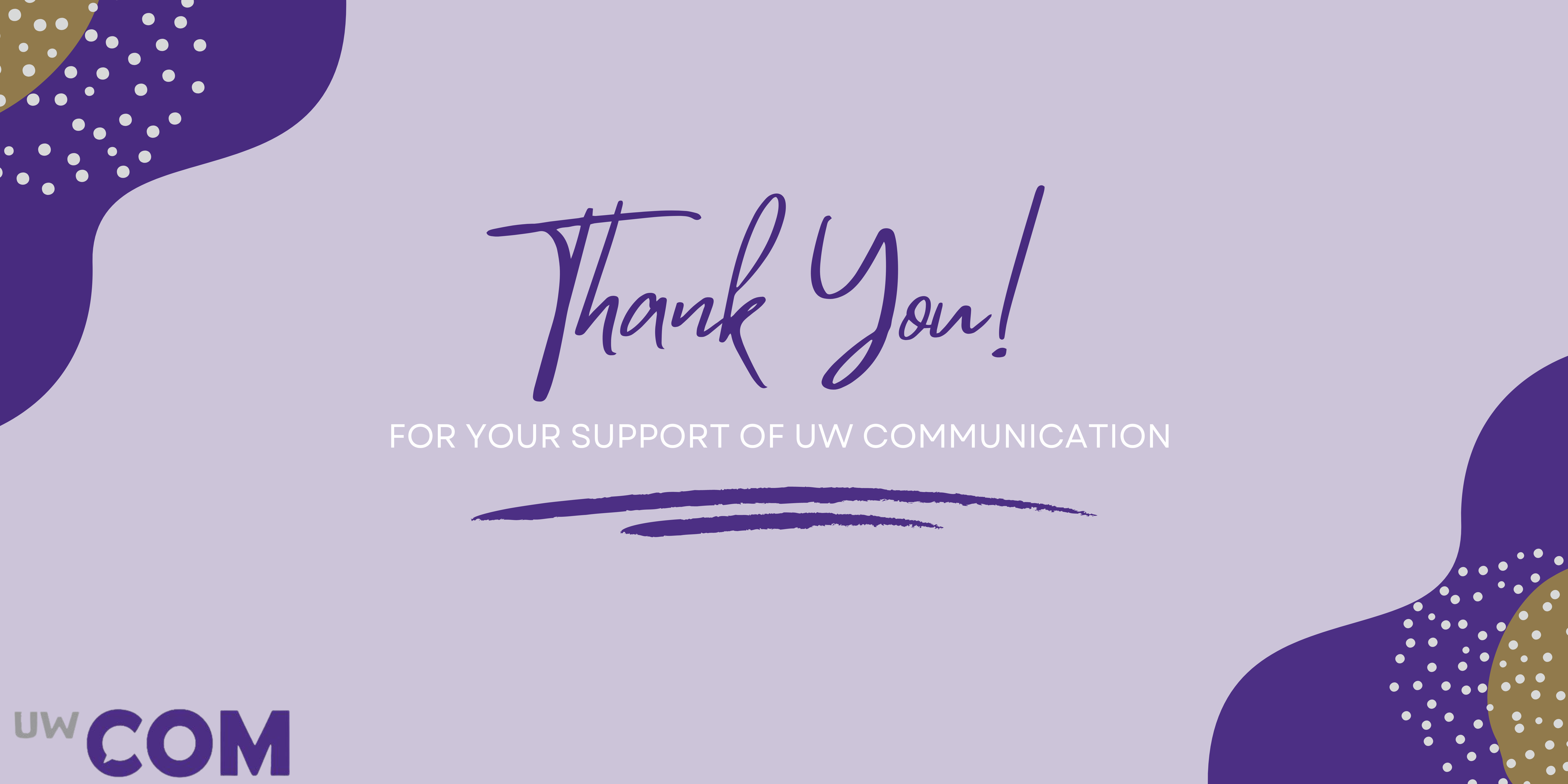 Warmly,
Christine Harold, Ph.D.
Professor and Chair
---
Los Angeles Career Exploration Trip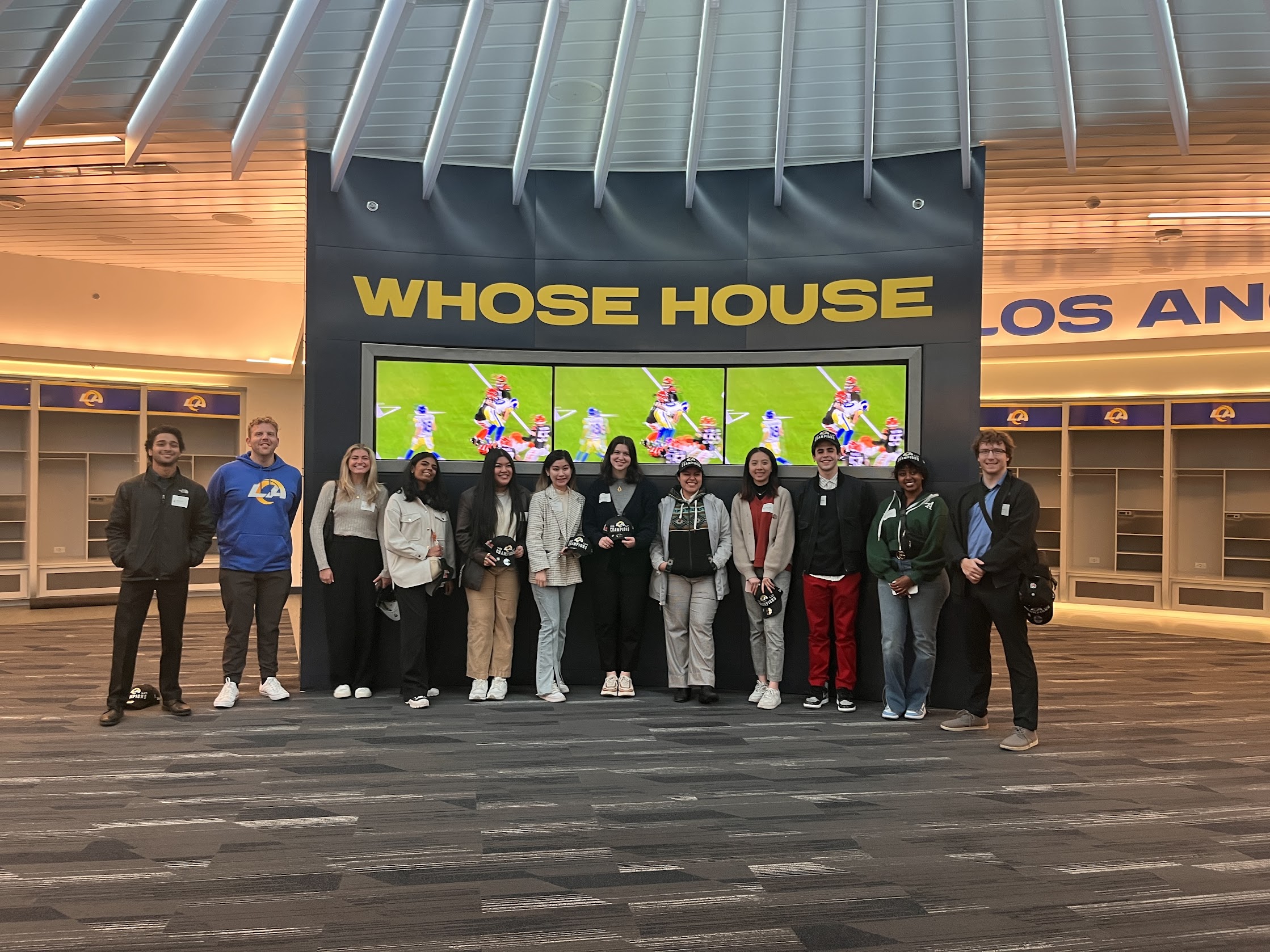 Earlier this month, a group of Communication students traveled to Los Angeles to explore prospective career paths in the field of communication. Students met with ten UW alumni who are leading professionals in television production, screenwriting, journalism, and community engagement. To make the deal even sweeter, this 4-day trip was at little to no cost to the students, thanks to the Christopher Rauch Meyer Endowed Fund, established by UW alum Paul Meyer.
Our amazing network of alumni in LA shared their personal career journeys, describing how they navigated their paths through the entertainment industry and offering tips for students looking to establish themselves. Students met with screenwriter (Crazy Rich Asians) Pete Chiarelli ('96), Grammy and Emmy award winning producer Rikki Hughes ('97), television producer and founder of Center Drive Media, John Bravakis ('80), sit-com writer (Friends, Spin City, One Day at a Time) Sebastian Jones ('88), and screenwriter and television producer (Everybody Hates Chris, The Bernie Mac Show) Kriss Turner ('84). These phenomenal UW alumni each offered a unique perspective on the best way to break into production and screenwriting. Producer and screenwriter Craig Tomashoff ('82) hosted students for a taping and behind the scenes tour of The Kelly Clarkson Show! The alums described the qualities the entertainment industry looks for in young professionals, and even offered some action items to get students building their skills while still at UW.
Our alumni are not just involved in production and screenwriting. The group also connected with professionals in the sports industry, including Lindsey Thiry ('09), reporter and journalist, currently working as the Los Angeles Chargers's team reporter for ESPN's NFL Nation. Students toured SoFi Stadium with David Weingarten ('14), Manager of Community Impact and Engagement for the Los Angeles Rams, who introduced an exciting career path for students interested in careers building relationships between sports teams and their broader communities.
Robyn Lattaker-Johnson ('92) described her journey from successful network executive (BET, SyFy, OWN) to her current role as an artists agent. Lindsay Scola ('05) shared advice from her fascinating career bridging the entertainment industry with social advocacy.
Navigating the vast city of LA, students experienced a taste of the city—its culture, food, and of course, its traffic. The group attended a Dodger's game, tried a locally owned ice cream shop, and demolished animal style fries from In-N-Out.
This remarkable trip afforded students the chance to learn from and connect with our successful alumni network as they prepare to embark on their own careers. The Department of Communication offers Career Exploration trips to both New York City and LA every year. We are developing a Washington, DC trip to connect students with government and public communications professionals.
Students: Click here to learn more and apply.
Alumni: Click here if you are interested in hosting future Career Explorers
---
Alumni give professional advice at UW Careers in Communication Panel
In March, three Communication alumni reflected on their professional experiences and offered career advice to the nearly 400 students in Introduction to Communication, a course for majors and prospective majors. Kathleen F. Miller, Suna Gurol Jeffreys, and Dan Albaum shared tales from their journeys from being Communication students at UW to the experienced professionals they are today. The panel, "Careers in Communication," was moderated by student intern Claire Kaufman.
Communication Hall of Fame member Kathleen Miller ('87), now the Director of Marketing and Communications at a non-profit organization, graduated from the UW with a double major in journalism and marketing. Miller emphasized the importance of knowing your audience and honing one's proofreading skills, lessons she learned as a staff writer at the Daily.
Suna Gurol Jeffreys ('11) followed a slightly different path than Miller's. After spearheading the social media department at Fred Hutchinson Cancer Center, Jeffreys graduated from UW's Communication Leadership Masters program. She is now the Senior Digital Director at WE Communications.
Dan Albaum described his transition from broadcast journalism to founding the marketing consulting firm, Market Impact. Last year, Albaum published the book The Impact Makers, inspired by his conversations with successful leaders for his podcast, "Market Impact Insights."
All three alumni had one common piece of advice for today's students—take advantage of opportunities and build good relationships. Miller and Jeffreys touched on the realistic aspects of corporate life such as workplace culture and office politics: "Your boss can make or break you at a job, same with the organization you work for," Miller said. Jeffreys added that "having a good relationship with your colleagues and boss is key in terms of your success."
When asked to reflect on mistakes they've made in their career, Albaum acknowledged he didn't always have confidence in his interpersonal relationships outside of work. "Take some time to get to be assertive. You have a right to express yourself," he said.
Jeffreys learned early in her career that rushing projects led to unnecessary mistakes. "Read that email a second time," she said, citing a common example.
Finally, Miller emphasized the importance of making a good impression, telling students about a time she lost a coveted internship at Alaska Airlines magazine because she failed to dress professionally for the interview.
When asked what pushed them through a difficult professional time, the common theme was determination. Albaum described a toxic manager who told him that he would never make it in marketing, leaving him with "that crushing feeling of someone who doesn't believe in you." He has since made a promise to himself never to use criticism as a motivational strategy.
Jeffreys addressed the challenges she faced balancing an unexpected pregnancy, graduate school, and a full-time job. She credits sheer determination to finish what she started as the source of her ultimate success.
---
Scholarship Ceremony celebrates students' achievements and donors' generosity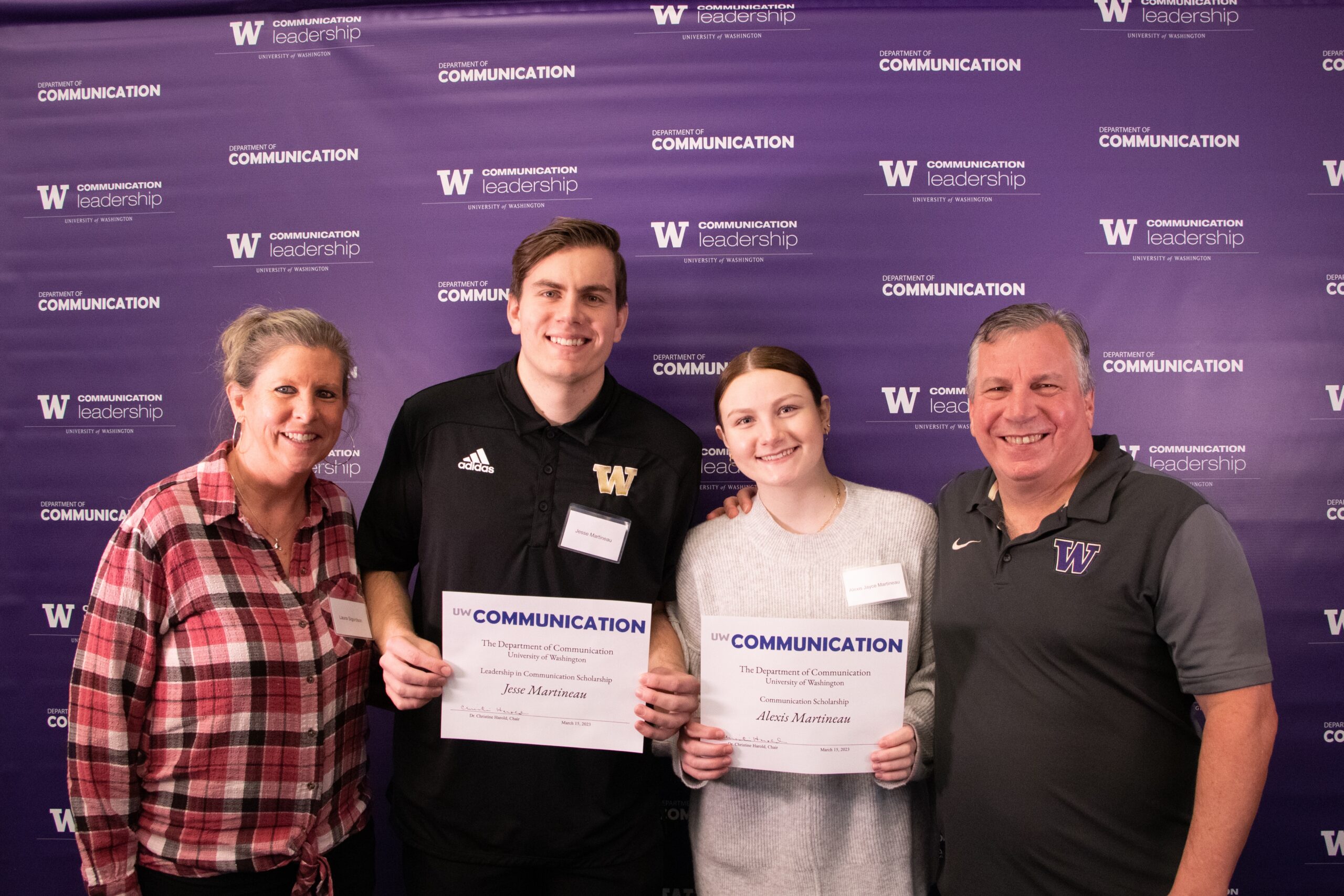 On Wednesday, March 15, the Department of Communication held our annual Scholarship Ceremony to recognize Communication students receiving scholarship awards and the donors who sponsored them.
Senior Jasmine Matchawete, opened the ceremony with a speech about what receiving a scholarship means to her. A first-generation college student, Matchawete needed to learn the terrain of higher education quickly as she navigated her path at UW. She became a Resident Advisor, worked three jobs and tried to maintain a social life, all while being a full time student. Yet, she says, it has been a life she enjoys. "Yes, it's busy, but it's moments like these that make all the long days and late nights feel all worth it," she told the audience.
Matchawete thanked the Christy C. Bulkeley Memorial Scholarship donors for their impactful generosity: "This is a scholarship that has made such a huge difference and impact on me during a really crucial period of my life."
The Christy C. Bulkeley Memorial Scholarship commemorates one of the few female newspaper publishers in the United States in the 1970s. Bulkeley was a Pulitzer Prize nominating judge and winner of the national Headliner Award from the Association for Women in Communications, an organization for which she also served as president.
"I feel empowered and honored to have received this scholarship and it serves as a reminder to me to continue to be a leader and take inspiration from women, and center community in the work we do—just as this scholarship represents," Matchawete concluded.
By the end of the ceremony, the Department had awarded forty-three scholarships, all made possible by donors wanting to recognize a beloved family member, to honor an influential mentor, or to remember communication scholars and professionals who made a difference in the lives of others.
---
Support UW Communication Programming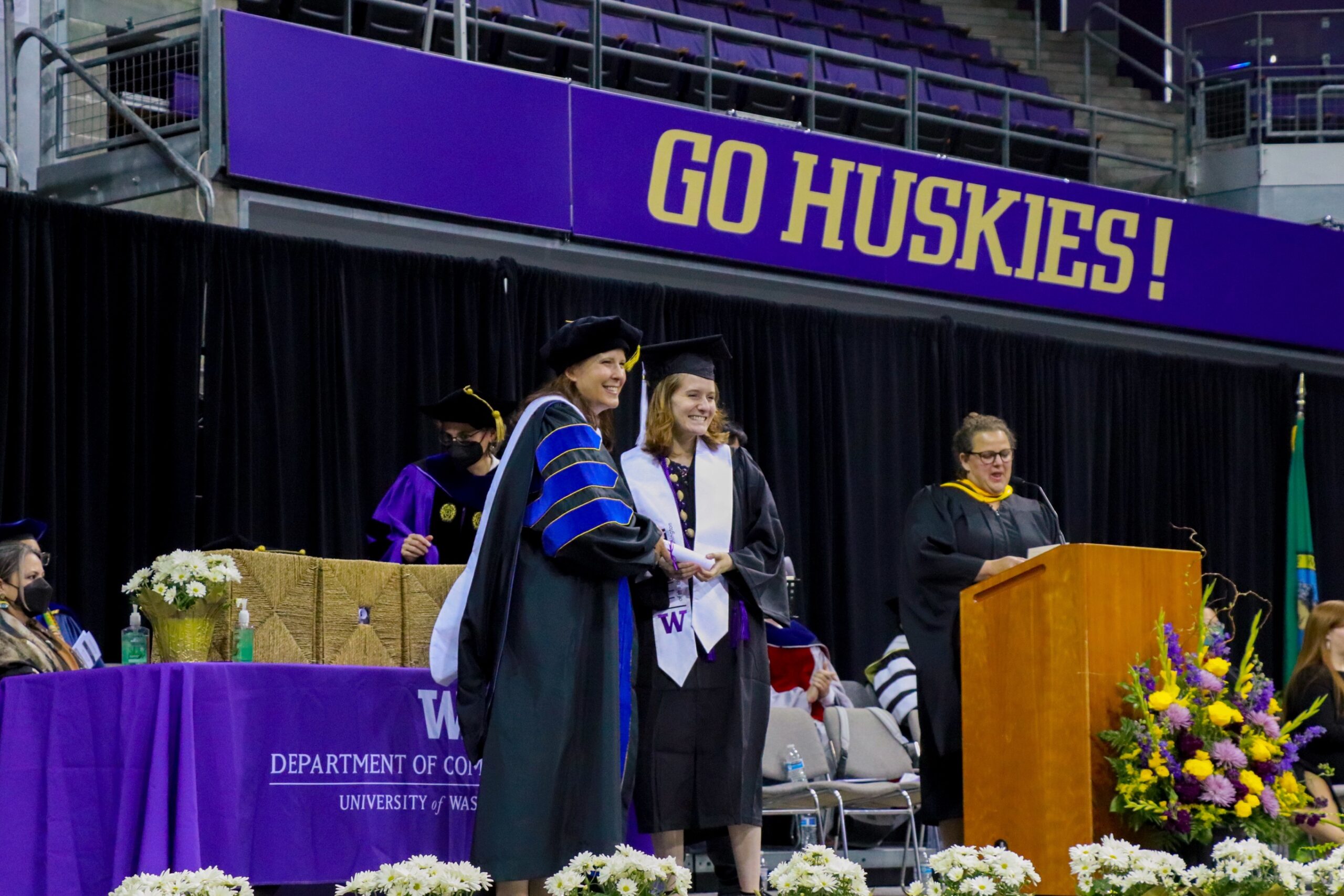 As we near the end of this academic year, your support continues to remain integral to the department. The Department of Communication is committed to providing a transformative education. Your support to the Department of Communication Annual Fund provides resources to develop and expand programs that are not covered by state funding, including career and professional development experiences and so much more. These programs push students to take on challenges, reach beyond themselves, and see the world in new ways. Thank you for your support.