Every year, the UW Department of Communication honors outstanding alumni who are making a difference in their careers and communities by inducting them into the Department's Alumni Hall of Fame. We also recognize the exceptional work of recent graduates through the Outstanding Early Career Award, as well as celebrate the invaluable contributions of those who receive the Alumni Award for Excellence in Mentoring. Finally, the Communication Leader Award recognizes Communication Leadership alumni who embody four of the program's core values — creativity, leadership, storytelling, and community — and have made a significant contribution to the field in a unique, emergent way.
We invite you to learn more about this year's honorees below:
2022 Hall of Fame Inductees: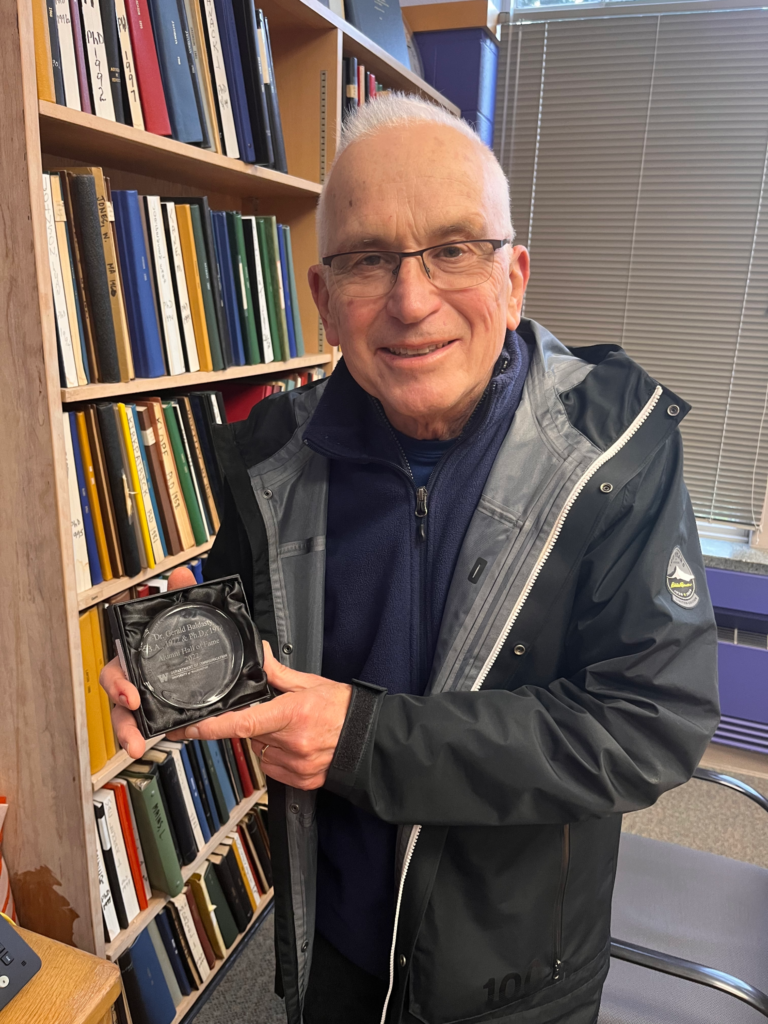 Dr. Gerald Baldasty (B.A., 1972 and Ph.D., 1978)
Dr. Gerald Baldasty joined the UW Communication faculty in 1978, where he worked until his retirement in 2019. During his career, he was a beloved professor, department chair, Dean and Vice Provost of the Graduate School, Senior Vice Provost for Academic and Student Affairs, and Provost and Executive Vice President of UW. While serving in the department, he relied on what he experienced as a student to shape his own goals as a faculty member and administrator. According to one of his nominators, "In his long career as a professor, scholar, academic leader and administrator at the University of Washington, Jerry Baldasty has demonstrated an extraordinary lifetime commitment not just to UW students but to faculty, staff, UW alumni and the larger community of UW partners and supporters, including the City of Seattle and the State of Washington." In 2000, Baldasty was awarded the UW Distinguished Teaching Award and was Honorable Mention for the Graduate Mentor Award. According to UW President Ana Marie Cauce, "Jerry said 'yes' to transforming the Husky Experience, working to ensure that students gain just as much outside the classroom as they do inside — whether studying abroad, conducting research in a lab, or taking an internship. He said 'yes' to saving the graduate school and 'yes' to helping the UW grow into the research powerhouse that it is today. He said 'yes' again to creating the Husky 100. And Jerry, who received the UW's Distinguished Teaching Award in 2000, has said 'yes' to countless students as a mentor, teacher, and advocate. What I value most about Jerry's generosity is that with every 'yes,' he has helped create a cascade of opportunities for others to say 'yes' as well." Baldasty credits his experiences in the department for giving him the knowledge, skills, and tools to take advantage of the opportunities that have come his way since graduating from the department. In his own words, "That's quite a gift, with an impact that has played out across the years. I am greatly honored to be included in a group that includes so many people whom I admire and who have inspired me for many years."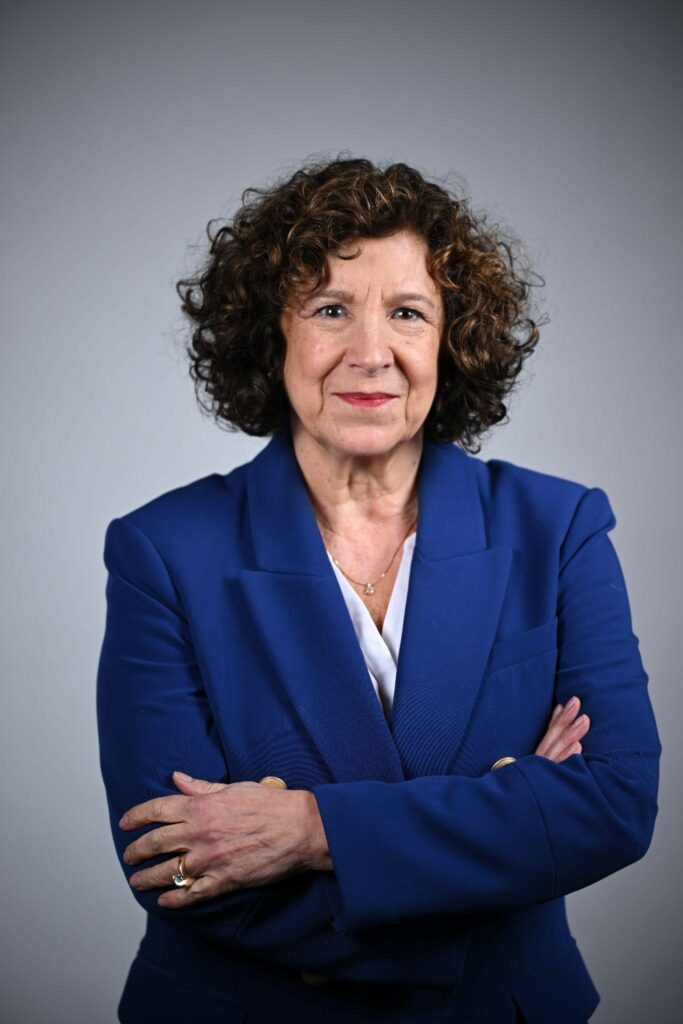 Suki Dardarian (B.A., 1980)
Suki Dardarian is an editor at the Star Tribune in Minnesota, where she oversees a news staff of 230 journalists. She has worked as a reporter and editor throughout the Northwest at The Seattle Times, the News Tribune, the Everett Herald, and the Bellingham Herald in newsrooms driven by a passion for public service journalism. Dardarian shared that she is blessed to have worked under great editors who nurtured and challenged her to dig deeper to serve their readers. She is proud of her education in Communication and Political Science, her training at The Daily, and the partnerships and friendships she built. Dardaruab fondly remembers her time in the Communications Building, recalling that professors would stroll the halls and hang out with students in The Daily office, and that the interplay of them offering advice and counsel has remained with her. According to her nominator, "Suki is the epitome of the type of person this award is intended to honor: a lifelong public servant who has spent over four decades committed to high-quality journalism and the public interest." When asked about what this award means to her, Dardarian shared, "We don't do this work for glory or praise; the work is reward enough. So it truly touches my heart to be honored by the UW, my colleagues, and my family in this way."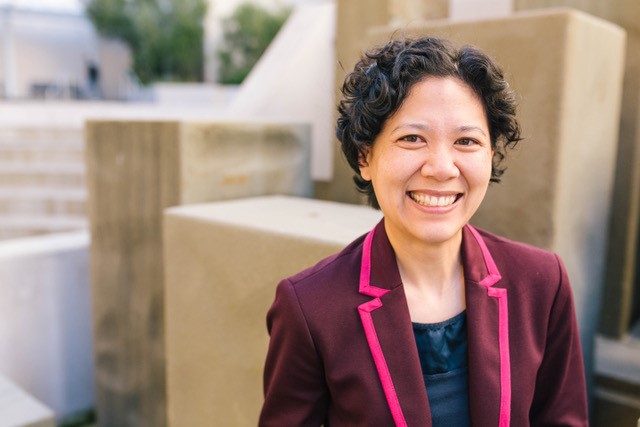 Dr. Evelyn Ho (B.A., 1997)
Dr. Evelyn Ho is a Professor of Communication Studies, Asian Pacific American Studies, and Critical Diversity Studies at the University of San Francisco. She spends her time teaching classes about the intersection of health, culture, and communication, mentoring students, and doing research about complementary and integrative health care primarily in monolingual Chinese American communities. The applied research she has co-conducted with collaborators is being used by Chinese American patients to co-construct health education materials for others like them. She shares that "It has been a privilege to have this vocation which was modeled to me by so many amazing professors at UW. At an institution as big as UW, I never felt like a number in Speech Comm[unication]. I felt seen, heard, encouraged, and taken seriously, and I work really hard to do the same in my own work." It was the experience of being immersed in academic and extracurricular exploits on campus that has helped Ho cultivate holistic learning experiences for her students. According to her nominator, "Evelyn has demonstrated continuous community engagement throughout her life. Her continued commitment to understanding alternative medicine and supporting health communication more broadly speak to how she has used research to further community concerns."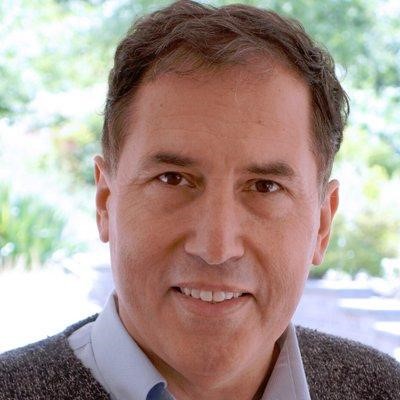 Peter Rinearson (B.A., 2004)
Peter Rinearson enrolled at the UW in 1972 and graduated in 2004, returning after thirty years to take the final two credits for his communication degree. According to his nominator, "Rinearson has modeled reinvention throughout his career, repeatedly taking on new and different challenges … This kind of career success, and Rinearson's willingness to change direction and take chances that sometimes fail, should inspire students." His career path has spanned multiple sectors and industries. He wrote for The Seattle Times for a decade, covering topics such as Boeing, the Pacific Rim, legislature, and the Seattle City Hall. He founded and ran two successful software companies, a modestly successful digital design studio, and a failed social network. He wrote a No. 1 NYT bestseller with Bill Gates ("The Road Ahead"), helped shape Microsoft Word from its earliest stages, sold Microsoft its first toolbar for Mac Word, and wrote the leading books of the era on how to use Microsoft Word. Later, he was a vice president of Microsoft and a senior vice president of Oxygen Media. Today he is a historian focused on Seattle and its technology and entrepreneurialism. Rinearson's national awards include the Pulitzer Prize for Feature Writing, the ASNE Distinguished Writing Award for business writing, the Lowell Thomas Prize from the American Society of Travel Writers, the John Hancock Award for Excellence in Business and Financial Journalism, and the Special Paul Myher Award in the Penney-Missouri Journalism Awards from the University of Missouri School of Journalism (now known as the Missouri Lifestyle Journalism Awards). In his remarks, Rinearson shared, "My career was non-linear, so it didn't lead me anywhere specific. I loved taking on a challenge, succeeding or failing at it, and then trying something new. I was unafraid to become a beginner again. This was wonderfully rewarding much of the time, but it's essential to remember that this approach can lead to failures — and I had some. The School of Communications, as it was then known, was formative for me. Being recognized by the organization is gratifying. Many people are deserving of recognition and I feel lucky to have been selected."
---
2022 Communication Leader Award: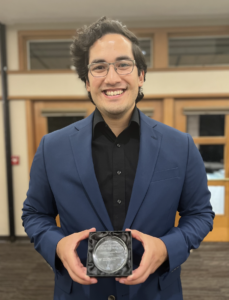 Jacob Christensen (B.A., 2014 and M.C., 2017)
Jacob Christensen is the Creative Director of JKC Video. Christensen focuses his energy into creating impactful video content, teaching others, and making the world a better place. "Many people have a career trajectory that's easier to follow because they can quickly list their prior roles and mention what company they so proudly worked for. I, on the other hand, have been running my own production company for over a decade. That said, I've had the great joy of working with hundreds of clients, all of which have helped shape my creative style and techniques of leadership," Christensen said. In his remarks, he shared that this recognition means the world to him, and that it was a surreal experience to be selected for this award. Beyond attending UW for both his undergraduate and Master's degree, Christensen is also an instructor for the Communication Leadership program.
---
2022 Early Career Award: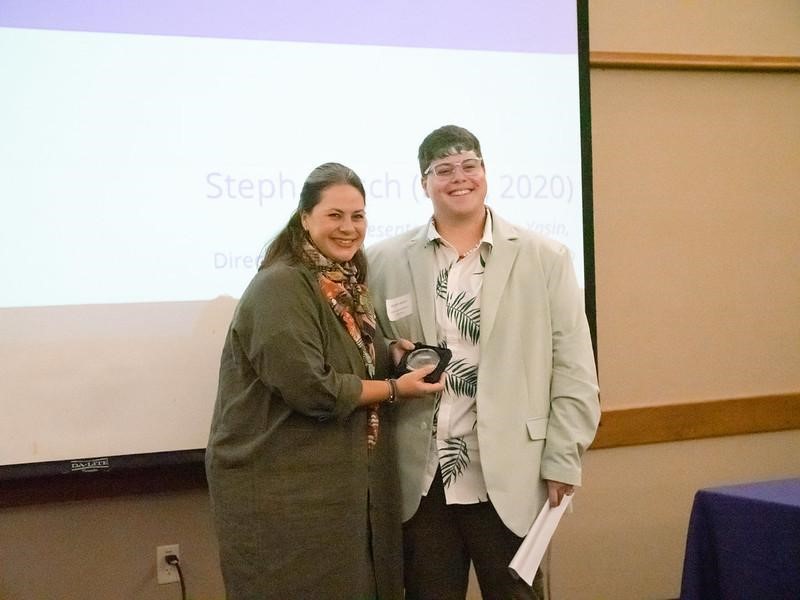 Steph Hirsch (M.C., 2020)
Steph Hirsch graduated from the Comm Lead program in 2020; they are now a Senior Account Executive at C+C and a DEIJ communications consultant specializing in Systems-Approach based Communications. Working with C+C, Steph supports Washington state and King County initiatives to build communication strategies to bring resources to diverse communities. Hirsch is also a sports equity communication and programming consultant working with teams such as the English Premier League's Crystal Palace FC, and with organizations like the Washington Interscholastic Activities Association (WIAA) to build affordable and accessible access to sports in diverse communities. Prior to C+C, Hirsch helped build the City of Seattle's Transportation Access Programs (TAP), becoming the first city in America to address transit equity for low-income and diverse populations. According to Hirsch, they are proudest of expanding their knowledge of equity outside of sports and learning what it really means to serve and lead with compassion and empathy. In their remarks, they shared that they hope to lend themself as an ally to push forward meaningful communication work in the world of DEIJ.
---
2022 Award for Excellence in Mentoring: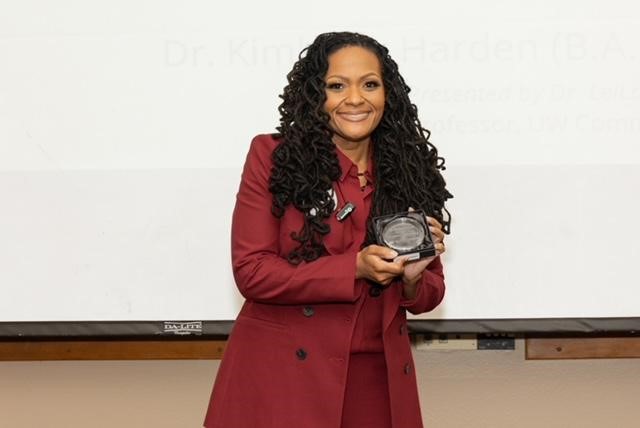 Dr. Kimberly Harden (B.A., 2013)
Following her graduation from the Department of Communication, Dr. Kimberly Harden received her M.A. in Communication from Gonzaga University and later her Ed.D. from Concordia University. She founded Harden Consulting Group LLC in 2019 to provide training and coaching to educators and organizational leaders to create diverse, equitable, and inclusive work environments. According to Harden, this award taught her that not everyone views mentorship as a normal part of their job, but that for her, it's part of her essence. In her remarks, she shared that to whom much is given, much is required. Until recently, Harden worked as a Communication instructor at Seattle University, but left to focus on her work as a DEIB strategist. Last July, she published the book "The Allyship Challenge: How to Move Beyond Performative Allyship and Become a Genuine Accomplice," which guides readers through her framework of Ally–Advocate–Accomplice, offering actionable steps to become a more inclusive and understanding individual and colleague. According to one of her nominators, "Dr. Harden was a college dropout. She was an adult learner with a full-time job and responsibilities when she chose to enroll in UW Evening Degree Program … She is very transparent about her journey because she wants people to know that 'a dream delayed is not a dream denied' and that life is not linear."