Note from the Chair
Dear Friends of Communication,
The transition to Autumn, with its crisp and colorful beauty, is a perfect time to share our gratitude for the fruits of our collective efforts as we turn toward an exciting and busy year ahead. In this edition, you'll read about new faculty books and honors, learn about amazing alumni honored at our annual Alumni of Distinction and Hall of Fame ceremony, and hear a bit about what's going on around here at UW Communication. Communication as a scholarly discipline continues to speak to our most pressing national and global issues—from social justice, climate change, journalism and democracy, health equity, and more. We remain committed to preparing our students to contribute meaningfully to an ever-evolving political, cultural, and technological landscape.
This Fall, we welcomed our newest faculty colleague, Dr. Wang Liao, our newest staff members, graduate program manager Whitney Bennett and senior computer specialist Christopher Crader, as well as a cohort of eight truly talented MA and Ph.D. students who join our community of scholars. Our professional master's program in Communication Leadership (known as CommLead) continues to flourish and expand its reputation globally. This year, a cohort of 115 new students joined our CommLead community from twenty countries to develop their expertise as impactful, empathic storytellers in a variety of professional fields.
We will have more to tell you about throughout the year and will have many ways for you to get involved. If you have professional skills or experiences to share, we would love to hear from you! We are expanding Career Kickstart, our professional development resources for undergraduate students, to include career panels with alumni, career mixers, and ask-me-anything sessions. Sharing your expertise with students is an easy way to contribute to the Department and to help the next generation of communicators as they prepare for what's next after UW.

Christine Harold, Ph.D.
Professor and Chair
---
Welcoming Wang Liao to UW Communication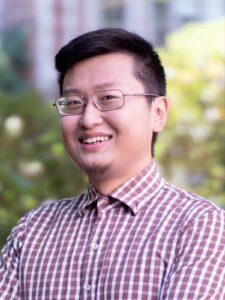 Assistant professor Dr. Wang Liao joins the UW Communication faculty this year. Dr. Liao (Ph.D., Cornell University) joins the department after five years on the faculty at UC Davis. He is teaching Group Communication this Autumn.
Liao's current research focuses on human and AI relationships, and seeks to better understand human connection through an exploration into the ways we interact with and relate to artificial intelligence.
He is currently exploring the link between micro and macro communication, specifically the social psychology and micro sociology of interactions within groups. "I was so interested in how people develop leadership in teams," Liao said. "[Including] how people build solidarities through some kind of conversation or some kind of interaction online and offline."
As an instructor, Liao hopes to offer his students insight into the myriad interpersonal and group communication processes that shape their daily lives. "I hope to broaden people's perspective [and] change their mindset," he said. As a scholar, he hopes to help the broader community understand the ways communication practices influence culture, political movements, and the social climate. According to Liao, his goal is to guide his students toward a better understanding of themselves, their interpersonal relationships, and their society.
---
Journalism Today: Insights into our Social and Environmental Futures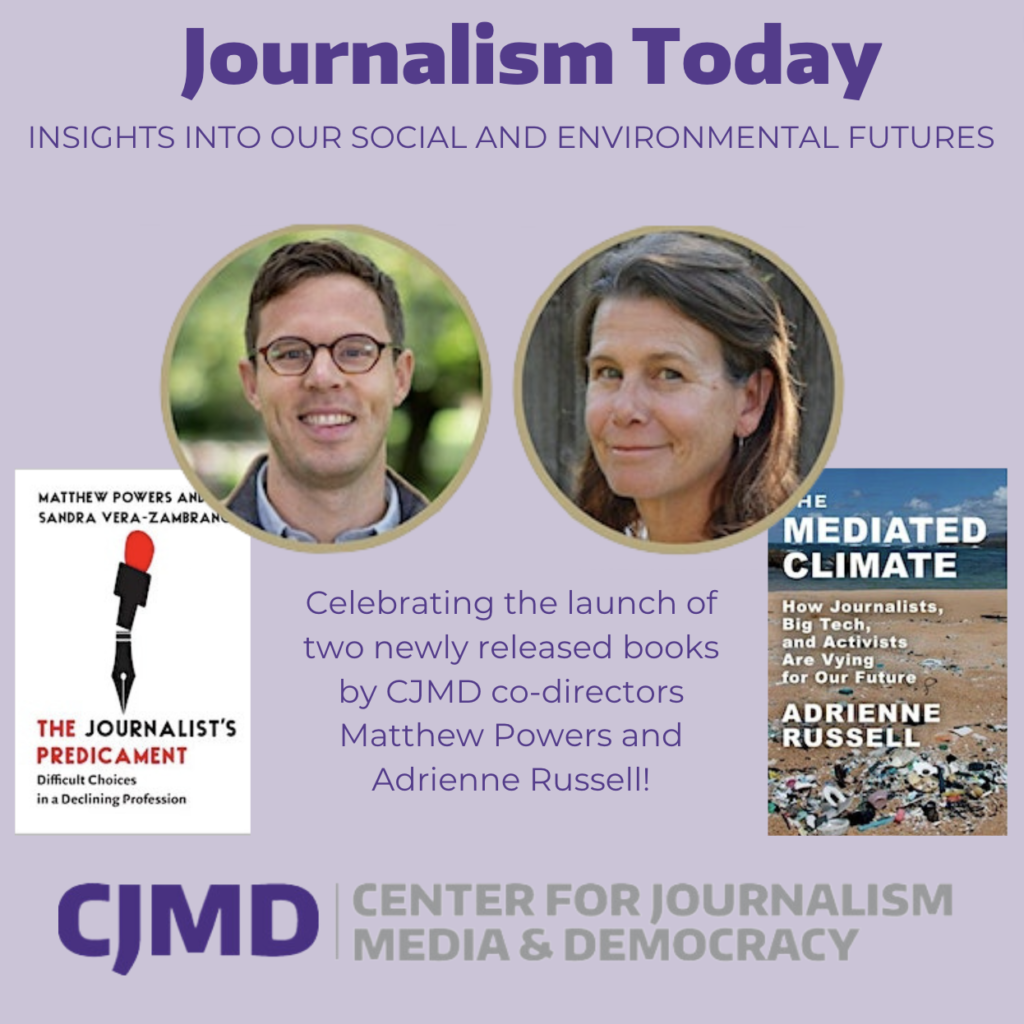 Matt Powers and Adrienne Russell, two faculty members with the UW Department of Communication, have released new books exploring the challenges journalists face when covering our most pressing global issues.
Powers' book, "The Journalist's Predicament," examines why individuals are pursuing a career in journalism given the profession's ongoing upheavals. Drawing from interviews with journalists in the United States and France, Powers and co-author Sandra Vera-Zambrano provide an in-depth story of a profession under pressure. In doing so, they foreground tensions that confront other socially valuable vocations like teaching, nursing, and caretaking. While the book explores the challenges facing the journalism field, Powers and Vera-Zambrano argue it is an industry worth fighting for. 
Russell's book, "The Mediated Climate," investigates the connections between the climate and information crises, looking closely at the terrain where journalism, activism, and big tech shape public discourse. The book argues that efforts to address fossil fuel pollution without addressing communication pollution miss an important piece of the collective challenge. Russell argues that media coverage of the climate crisis must consider the broader context and power dynamics in which journalism operates. By highlighting the connections between the dual crises of climate change and misinformation, "The Mediated Climate" encourages us to foster a media landscape that better serves the common good.
---
Alumni of Distinction and Hall of Fame Ceremony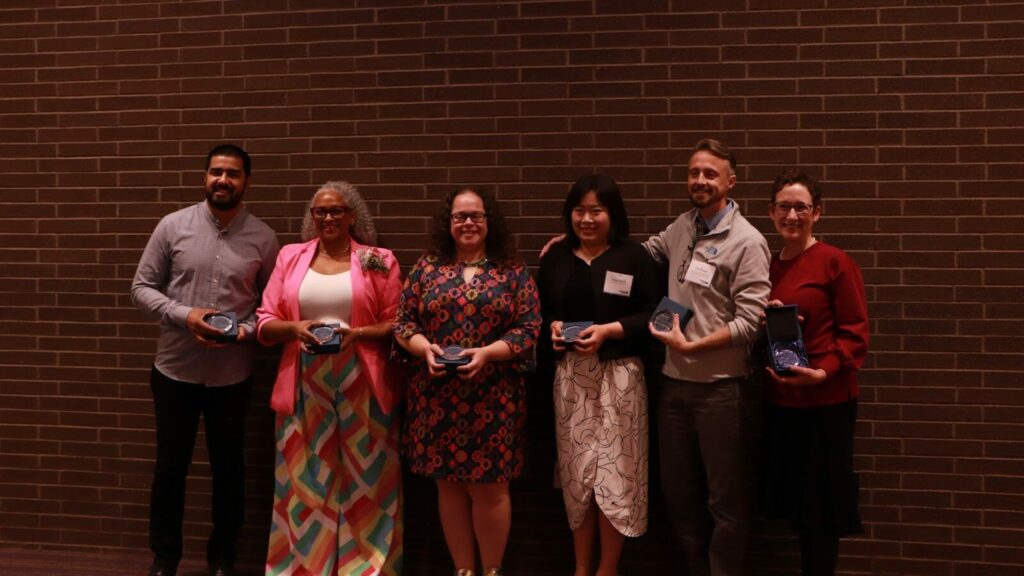 Each year, the UW Department of Communication celebrates outstanding alumni who are making a difference in their careers and communities through the Department's Alumni Hall of Fame. This year's inductees are Robyn Lattacker-Johnson, Phyllis Fletcher, and Dr. Lisa Coutu. The exceptional work of recent graduates was also recognized through the Outstanding Early Career Award, which was awarded to Tongtong Qu, and the Alumni Award for Excellence in Mentoring, which was awarded to Troy Bonnes. Finally, Ryan Quigtar received the Communication Leader Award, which honors Communication Leadership alumni who embody the program's core values of creativity, leadership, storytelling, and community — and have made a significant contribution to the field in a unique, emergent way.
We invite you to learn more about this year's honorees:
2023 Hall of Fame Inductees
Robyn Lattacker- Johnson (B.A., Communication, 1992)
Robyn Lattaker-Johnson is a television executive and talent agent who graduated with a B.A. in Communication in 1992. Among her many leadership roles in the entertainment industry, Lattacker-Johnson represented artists at A3 Artists Agency and was the Head of Unscripted Programming at OWN: The Oprah Winfrey Network, where she creatively led over a dozen new series and specials.
Lattaker-Johnson earned an MFA from the Art Center College of Design in Film Directing. She says that community was one of the most impactful parts of her undergraduate experience: "Being at the University of Washington showed me the community that the black students can create…That's where I was able to get really involved in community and mentorship and fundraising and canned food drives. What my mom taught me, to always give back to your community, and the college experience really kind of solidified my path and my journey and things that I still do to this day." Lattaker-Johnson recently gave back to UW Communication at our LA Career Exploration trip, inspiring students by sharing her career path and her challenges and successes in the entertainment industry.
Phyllis Fletcher (M.C., Communication Leadership, 2011)
Phyllis Fletcher graduated from the Communication Leadership program with a Masters of Communication in 2011. Fletcher fell in love with radio and journalism after listening to the Howard Stern Show when she was in college, and is currently serving as a senior story editor for the podcast studio Wondery. "I was captivated and needed to hear what would happen the next minute, the next hour, and the next day," Fletcher said.
According to her nominator, Fletcher has had a real-world impact in audio journalism through her award-winning reporting, producing, writing, editing and teaching. Before she was an editor, Fletcher was an innovative and creative reporter, always looking for new ways to report issues and do work that made a difference in the communities she covered. Fletcher is a board member for the public radio show Live Wire, the audio documentary organization Third Coast, and is a former president of the Seattle Association of Black Journalists. Internationally, Fletcher has contributed to academic knowledge about journalism ethics through her ethnography of journalists of color.
Dr. Lisa Coutu (Ph.D. Communication, 1996)
Teaching Professor Emeritus Dr. Lisa Coutu specializes in the study of communication and culture, the ethnography of communication, and discourse analysis. In particular, her research involves examining the ways groups' methods of speaking are created and maintained within the context of coexisting and competing ways of speaking. Now retired, she taught undergraduate courses in language, culture, intercultural communication, and communication approaches to the study of war. She was also the associate director of the UW Center for Local Strategies Research and an associate director of the Communication Leadership program. In 2003, she received the University of Washington's Distinguished Teaching Award, and in 2008, received the UW Educational Outreach Award for Teaching Excellence in Distance Learning.
"I love students and I love my subject matter," Coutu said. "It was an amazing privilege to teach so many students in so many different contexts over my career — I miss them in my retirement. I also love learning. My career as an instructor has kept me learning and has kept me optimistic about the world I envision our students creating."
2023 Early Career Award: Tongtong Qu ( B.A. Communication, 2018 and M.C. Digital Media, 2020)
Tongtong Qu graduated with a B.A. in Communication in 2018 and received her Master of Communication in Digital Media from the Communication Leadership program in 2020. After graduation, Qu led a global marketing program at SAP Concur, where she helped expand the company's products from 10 markets to over 30. Qu then joined Amazon, where she became part of a seller-facing product marketing and social media team.
Qu describes her time at UW as transformative, noting that the university offered her a foundation of knowledge, skills, and diverse perspectives. For Qu, receiving this award symbolized her educational and professional journey, as well as the Department of Communication's enduring legacy. "It motivates me to continue striving for excellence and to be a role model for current and future students of the Department of Communication," Qu said. "I am deeply honored and grateful for this recognition and look forward to continuing to make a positive impact in my field and within the university community."
Communication Leader Award: Ryan Quigtar (M.C. Communities and Networks, 2021)
Ryan Quigtar graduated with a master's degree from the Communication Leadership program in 2021. Quigtar is the executive director of the Renton Innovation Zone Partnership (RIZP), which works to connect communities and schools within the Renton Innovation Zone to improve the well-being and academic performance of children. Growing up in one of the neighborhoods the organization serves, Quigtar works to make the partnership a facilitator of direct service providers as well as perform direct services.
With Renton Innovation Zone Partnership, Quigtar has launched a summer program for children in the area, a mobile resource center, and the Skyway Resource Center. In partnership with the King County Housing Authority and U.S. Bank, Quigtar and RIZP are also bringing a HUD EnVision Center to West Hill's Skyway Community. This multi-service resource center will bring economic empowerment, educational advancement, improve health and wellness, and create character leadership services for the Skyway community.
Excellence in Mentoring Award: Troy Bonnes (B.A. Communication, 2014)
Troy Bonnes has served as an academic advisor for the Department of Communication since 2015. Prior to his work as an advisor, Bonnes was an early childhood educator, where he ignited his passion for working with students. In his work as an advisor for UW Communication majors, Bonnes has earned a reputation as a compassionate advocate and mentor to students.
"Troy has been exemplary in his genuine interest in my success here at the University of Washington from the moment I started asking for his assistance within the Communication Department," according to one student. "Each and every interaction with him has been full of knowledgeable advice, and insightful ideas of specific areas I could focus on … No task is too big or small for Troy to advise on; I know without a shadow of a doubt if I reach out to him, I will not only have accurate information, I will also have empathy and encouragement."
---
AEJMC's Eleanor Blum Distinguished Service to Research Award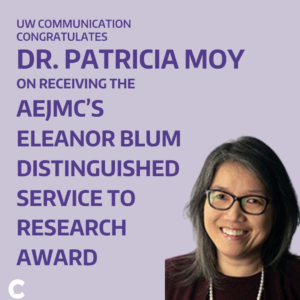 Dr. Patricia Moy recently received the Eleanor Blum Distinguished Service to Research Award from the Association for Education in Journalism and Mass Communication (AEJMC) for her contributions to research in mass communication. A leader in the field, Dr. Moy is a political communication scholar who focuses on communication and citizenship, specifically how mediated and interpersonal communication can shape public opinion, social and political trust, and political behavior.
Moy was also applauded for her impactful leadership in many of the field's key organizations, such as AEJMC, the International Communication Association, and World Association for Public Opinion Research. "Across these associations, she has made it her goal to promote the value and rigor of mass communication research," one of Moy's nominators said. "In building up these networks of scholars, she has nurtured communities of intellectual support. Her goal is to help others do good research – research that stands up to scrutiny and moves the field forward. She believes in – and has put into action – an ethic of collaboration where mutual aid is the point of academic association."
---
Support UW Communication Programming
The Department of Communication is committed to providing a transformative education and producing cutting-edge research on the most pressing issues of our time — work we could not do without you!
Your support to the Department of Communication Annual Fund provides resources to develop and expand programs that are not covered by state funding, including career and professional development experiences, research initiatives, and so much more.
We are looking for alumni who are interested in volunteering with our Career Kickstart program, whether it's meeting students for the Career Exploration program, joining an alumni panel, or hosting a professional development workshop.
---